Maikel Franco's Hot Start Continues for Phillies
Maikel Franco's Hot Start Continues for Phillies
By Jim Salisbury | NBC Sports Philadelphia
Published at 11:41 PM EDT on Apr 7, 2018
He's going to have to do it for more than two games in a row. But after watching Maikel Franco in the first two home games of the season, one has to wonder if he might be starting to get it.
Franco spent the winter back home in the Dominican Republic working on a new batting stance then came to Clearwater for six weeks and worked on it even more. Basically, he has moved his front foot closer to home plate. The hope is it will remedy his old habit of pulling his front side off the ball.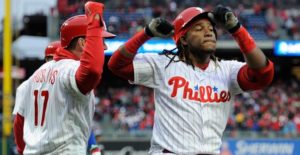 The 25-year-old third baseman showed real signs of progress 15 days ago when he scorched a pair of home runs against the Pirates in a spring training game in Bradenton, and he has continued to show progress in the early part of the regular season, especially the last few days.
The Phillies enjoyed a 20-hit party in rolling over the stripped-down Miami Marlins – boy, it's going to be a long season for them – by a score of 20-1 at Citizens Bank Park on Saturday night (see first take). It was the most lopsided loss in Marlins' history. Two games into the three-game series, which concludes with Jake Arrieta on the mound Sunday, the Phils have outscored Miami, 25-1. Franco drove in four runs with homer, a triple and a single in Thursday's home opener. He drove in six runs in this game with a grand slam and a two-run double. He also walked and finished with three runs scored.
"I feel really comfortable," Franco said of his new stance. "I was working on it in spring training and not worrying about having success or not. I was just trying to get consistent with it. I feel like I'm in a good spot now."
Franco said his new stance allows him to slow down, not swing as hard and try to stay in the middle of the field. He will need to remain consistent with it to have the type of season needed to convince the front office not to use Scott Kingery at third in the short term and pursue a big-name free agent like Manny Machado or Josh Donaldson in the long term.
Franco's grand slam came on the eighth pitch he saw from rookie Dillon Peters. His walk came on a full-count pitch. The entire Phillies club is trying to see more pitches. So far, so good. The Phils are leading the majors seeing 4.37 pitches per at-bat.
Manager Gabe Kapler said he was happy for hitting coach John Mallee because, "he's been working his tail off with our hitters. We're working deeper counts and really grinding out at-bats so it's nice to see that all come together in one big, kind of celebratory game. A lot of great things happened."
In addition to Franco, the Phils got a grand slam from Aaron Altherr, a three-run homer from Carlos Santana (career hit No. 1,000) and a booming solo homer from Jorge Alfaro.
Starting pitcher Vince Velasquez needed 53 pitches to get through the first two innings. The big lead allowed him to relax and attack hitters and he ended up going six innings, throwing just 45 pitches over his final four innings. Economy of pitches has been a longstanding issue for Velasquez. With the pressure off, he was able to throw strikes consistently. Like Franco, he might be making some progress. Ultimately, time will tell on them both.